All About Antonia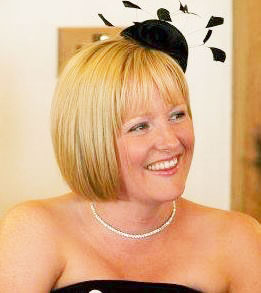 Toni looking smart
Introducing me, Toni. I'm really Antonia, but no-one calls me that.
I love sport, in particular football, with Manchester United being my first love. As the daughter (along with my sister) of a man who wanted sons, our love of sport is more birth right than choice. Apart from sport, I love music and will listen to anything! On my iPod you will find everything from Ray Charles to Rhianna, Prince to Pat Benetar and AC/DC to 1D (my daughter's choice of course). My all-time favourite is George Michael, who incidentally is the only man to have ever broken my heart twice!
I'm also a bit of a whiz in the kitchen, and love cooking and baking. My biggest critique, my 6 year old daughter Georgia, is proud of the fact Mummy's quiches and pies don't have soggy bottoms!
I've spent the last 15 years of my career being an events co-ordinator. I've been lucky enough to travel throughout Europe with my past roles. My favourite city being Leipzig, in the old East Germany - a stunning place which played a significant role in instigating the fall of communism in Eastern Europe; it has spectacular architecture, impressive shops and a Porsche factory. Of which I was lucky enough to have blast around the test track in a Porsche Panamera - Just call me The Stig!
Since becoming a single mum, I couldn't keep up with the fast pace of the events industry and wanted to concentrate more time with my girl. I spoke to Dawn about a part time role working school hours, and well... here I am! I am here to help with the returns and accounts; although just like everybody else, I'll get stuck into just about everything. It's not a team here, it's a family - and one I'm privileged to be a part of.