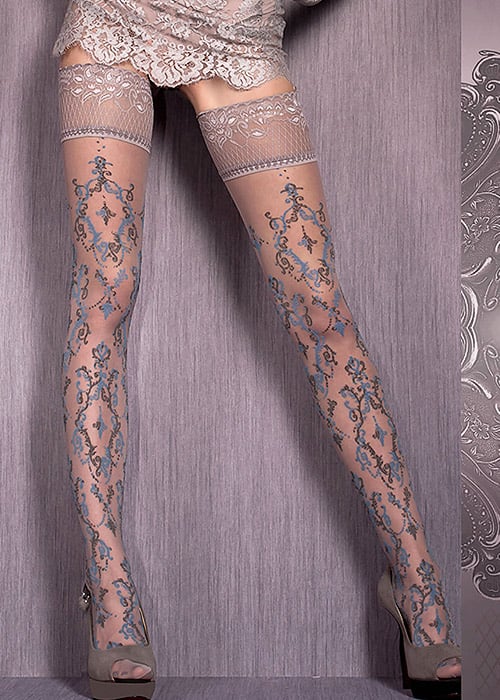 Hosiery is the perfect way to alter and revolutionise any ensemble, but there's one particular kind of hosiery that does it better than most: the
Oh-so-pretty
hold ups
.
What's so good about hold ups?
Simple! They have all the ornate parts of a pair of stockings, yet all the ease of tights. If tights are sexy, hold ups are even sexier. To wear hold ups is the very best way to include a little luxury lace in your outfit, add some extra sex appeal to your underwear and enhance your own femininity. Did we mention how amazing are our
boudoir hold ups
?
Getting married soon?
Well, congratulations! Traditionally, silk hold ups have been the first choice for the bride-to-be. These days, though, you have plenty to choose and hundreds of
bridal hold ups
to match your style on your wedding day. Nowadays, it's easy to find hold ups with all the variety you would normally find in tights. Every pattern and colour scheme out there is available in this kind of garment and it really helps keep the legwear world varied.
Why are more people wearing hold ups these days?
Hold ups are one of the fastest growing kinds of leg wear in terms of popularity and they're starting to become as loved as tights and as timeless as
stockings
. but stockings require suspenders, which can be quite fiddly for some. Hold ups, however, simply slip on and stay up all by themselves. They're ideal for those who are in a rush but still want an outfit that is complete and stylish.
Speaking of
suspender belts
, these are another great part of the hosiery world that's becoming more and more popular. Yes, as we just mentioned, some people find suspenders quite fiddly as you have to clip your leg wear on to four, six, eight or sometimes more straps each morning, but for an extra two or three minutes of preparation, you get the most feminine and exciting garment you can imagine.
There's little else out there that is as sexy and sensual as a suspender belt with a pair of nice stockings. There's something truly timeless about this combination and any outfit is revolutionised when you add a suspender sand other accompaniments to the mix.
So these are just a few of the items that are becoming mega popular this fashion season. They are becoming a little more loved each day, so get hold of a few of these items and you won't be sorry when you see them on every catwalk and every pair of legs. Do you want to keep up with what's trendy out there? Check out the latest trends in stockings and hold ups at the
UK Tights blog.