Pretty Polly recently granted UK Tights an exclusive interview. We asked for a quick summary of Pretty Polly's history, direction and identity. Pretty Polly have always been a household name, but it's not often we get to see behind the curtain and learn what they're like underneath. So, the incredible folks at the Courtalds Group accepted and sent us a reply with what they see as their brand identity.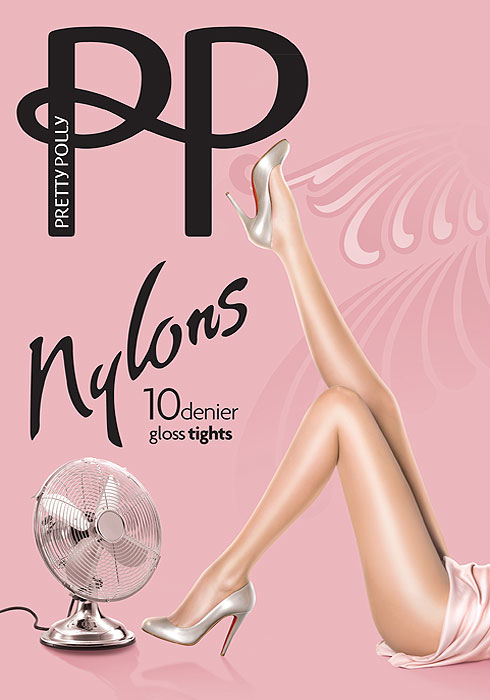 Here's their reply:
Pretty Polly
is the UK's number one hosiery brand. Established in 1919, there were nominated as one of Britain's CoolBrands, Pretty Polly is famous for dressing the legs of famous, iconic women, and for pushing the boundaries of design and innovation. The Brand is also known for ground breaking advertising campaigns & creative packaging.
Some of the brand values are about being accessible, fashionable and fun and
Pretty Polly,
is proud to be relevant across all market categories from Catwalk Collections to every day hard-working basics.
Pretty Polly has a long history of collaborations and recently these have included London based House of Holland, creating the now iconic suspender tight; New York Based Alice & Olivia launched in Autumn 13, as well as supporting up- and-coming British talent such as the recent Patternity collaboration.
Pretty Polly brand
is now sold worldwide with a growing business in the US and Europe.
Pretty Polly's wealth of experience and expertise makes it a centre of excellence for hosiery development and production. The on-site design, technical & production teams provide not only Pretty Polly products but also high quality private label products to many UK High street retailers. With over £1m of recent investment improving dyeing capability and automation, the factory can provide cost effective hosiery manufacturing for all types of product.
- - -
Our thoughts
:
We're really grateful for the people at Pretty Polly who've given up some of their time to contribute to this article. It's always fascinating to listen to what they have to say and find out a little more about the history of Pretty Polly.
Pretty Polly facilities span tens of thousands of square feet, over multiple floors, each area used for production, storage, admin and design. The designers themselves work on site and are resident artists for the brand. This is an important part of their identity and philosophy as it means these designers aren't working on outside projects or freelancing for other agencies, so they can really concentrate on making the most beautiful and incredible tights, hold ups and stockings they know how to make.
Pretty Polly + House of Holland collaboration
This is slightly different for Henry Holland, of course. The work that Pretty Polly have done with The House Of Holland is an outside collaboration, but it's one of those occasions where bringing in someone new makes for more inspiring and original work. The results of Mr Holland's collaboration have been powerful and we at UK Tights have seen people go absolutely mad for them.
Since collaborating with The House Of Holland, Pretty Polly has learned a lot and are building on their experience each season. Their brush with the extraordinary talent that is Henry Holland has pushed them to release some truly beautiful new fashion releases. They are now going beyond their reputation as a hosiery manufacturer and remaking themselves as a stylish and chic fashion house too.
But their reinvention as a brand has not taken them away from their roots. They still produce 90% off all their items here in the UK. They don't export their manufacturing when they can keep it in teh beautiful Derbyshire countryshire. England has a long history of being a producer of fine clothing. For the longest time, Leicestershire, Derbyshire and Northamptonshire were the capitals of clothing and made some of the finest garments in the world. Pretty Polly see no reason why this should change. The expertise and heritage is right here in the UK and to take it elsewhere makes no sense to them.
It's no wonder that Pretty Polly has remained the respected and revered designer for as long as it has. Each year they try their talented hands at something new and invariably they do phenomenally well at it. They make the leg wear world what it is and have pushed development forward for decades. In 2019,
Pretty Polly celebrated their 100th Anniversary
.
Pretty Polly have long been one of our closest partners and they've been a household name for even longer than that. But it's so nice to finally see more of
Pretty Polly Hosiery
, take a look at their inner workings and learn a bit more about what they are all about.
They're an incredible group of people with a very rich history and so much to offer the leg wear world. Their experience makes them a prime name in the leg wear world when it comes to development and design. Other brands out there look to older names like Pretty Polly to take a leaf from their book whenever possible. We certainly don't blame them. They remain one of the most talented and respected names in the leg wear world and it's always a pleasure to work with them.
Pretty Polly are now selling lingerie. See the
Pretty Polly Lingerie Range Here.